2022 Distinguished Alumni Award
Ryan Jude Tanner '97 is the recipient of the 2022 Distinguished Alumni Award. He was formally recognized at the Night to Dream Big Gala on Friday, Nov. 4, 2022 at the Ambiance in Quincy, Ill.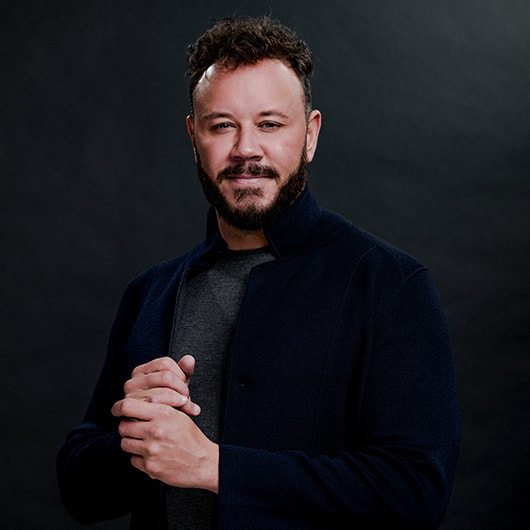 Since graduating from Quincy High School in 1997, Ryan Jude Tanner's name has become synonymous with development, excitement, and success. He & his husband, Jay Krottinger, own Tanninger Companies, an impressive collection of holdings that crosses industries and defies expectations. Tanninger Companies includes ventures in hospitality, real estate, Tony-Award-Winning entertainment, and health care, truly demonstrating the multi-faceted talents of the Tulsa-based couple.
In Quincy, Tanninger owns The Patio Restaurant & Elkton Hotel, and co-owns the Fifth Infantry Armory, which was recently renovated as an events space. They are also renovating the former Illinois State Bank building in downtown Quincy into a 36-room boutique hotel.
Hearing about the immense success of this Quincy High School grad, one might assume he was born into a life that had him set up for success from the beginning. Nothing could be further from the truth. Ryan is candid about the many obstacles he had to overcome in his childhood to avoid perpetuating a cycle of poverty and abuse.
"I grew up in trailer parks and the projects. My mother was pregnant at 14 and had me at 15. She was completely unprepared for the responsibilities of being a single parent," said Ryan. "I think there are probably so many other "Ryans" out there that didn't necessarily hit the family or financial jackpot when they were born. But one of the differences for me was having educators and administrators along the way that went above and beyond, far outside of the scope of what they were hired to do."
Ryan remembers many instances of teachers in his life working not only to teach and guide him, but making him feel accepted. One heartwarming story involved Ryan's third grade teacher, Mrs. Sandra Root.
"Mrs. Root helped me buy geraniums and planted them with me at my house. I remember my mom being so happy and joyful when she saw the flowers. She was an alcoholic and didn't know that Mrs. Root had helped me. She didn't know I had that person looking out for me," said Ryan.
"And the list goes on and on. I have so many memories of support coming from the teachers and staff at the schools. School was, for me, a social services organization that held my hand and pushed me and pulled me through the process. To make sure I was safe and had the best opportunities that anyone could have graduating out of QPS.
"Another fabulous administrator was Ann Tierney. I had a hard time finding my way: I was bullied for everything. I am biracial & I was never black or white enough. I was terrible at sports. Shy. Afraid of my own family. I remember Ann Tierney always taking time for me. And looking out for me."
Kathi Dooley & Dan Sherman were other mentors for Ryan whose influences went far beyond the walls of a classroom.
"I was a choir student learning from Kathi Dooley, starting in the 5th grade. She was a huge important part of my life. My mom was physically abusive, and it was Kathi who convinced me finally that I had to get out that situation. She went to court with me & held my hand through the whole process," said Ryan.
His involvement with the music department was a major factor in his social development.
"I was too shy to audition for musical or New Faces. I also have a terrible voice," laughed Ryan. "But they always found a place for me because they knew how important it was that I had a safe place after school. They made me feel like I mattered. I remember Dan Sherman teaching me how to tie a tie and Kathi making sure I was on time and teaching me how to talk to people and approach people. Things many people learn from their families.
"Getting to feel as normal as other kids as possible made all the difference in my life. They looked out for me, and I know that they have looked out for so many others."
After being the first in his family to earn his high school diploma, Ryan attended John Wood Community College and then eventually transferred to Illinois College, where he earned his degree in political science, another family first.
Ryan is honored to be the inaugural recipient of the Distinguished Alumni Award.
"Thinking about the QPS Foundation, and being picked for this honor, and I feel like there would be no Ryan Tanner without QPS and the people that make up this institution that ensure that someone like me who has all the odds stacked against them still has access to the best opportunities," said Ryan. "I am aware that I have surpassed any and all expectations and I owe so much of that to not just the teachers, but to also the people in Quincy who support the foundation and support the schools."