Lindsay Ertel, President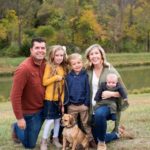 Lindsay is a 2001 QHS Graduate. She attended University of Kansas where she graduated with a degree in Interior Design. She and her high school sweetheart, Mitch, moved back to Quincy in 2010 when they tied the knot. They have 3 wonderful children - Madison, Will, & Jackson. Lindsay opened GemStone Countertops in 2019. Lindsay wants to make Quincy Public Schools as strong as possible to ensure a wonderful education for all students.
Michaela Fray, Vice President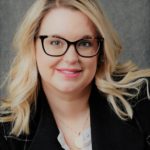 Michaela Fray-Tappe, Ed.D. is in her 16th year serving as an educator. Raised in Augusta, Illinois, the daughter of two lifelong educators and a basketball coach, Michaela considers QPS "home". She attended Quincy University where she was a member of the basketball team and received a Bachelor's Degree in Elementary Education.
Michaela started her teaching career at Baldwin South Intermediate School. She has also served as the Western CUSD 12 PK-8th grade Principal, QPS IL-PART Coordinator, and QPS Director of Curriculum, Instruction, and Assessment. Currently, Michaela serves as the ROE #1 LEAD Coordinator. Michaela successfully completed her doctoral degree from Western Illinois University in December 2020 and holds a superintendent license. Serving on the QPS Foundation provides Michaela a way to continue to actively contribute to and celebrate the phenomenal people and happenings within Quincy Public Schools.
Michaela actively serves as the Secretary on the Horizons Board and as Vice President on the Mart Heinen Board at QU. Michaela is married to Andy Tappe. In March 2022, they welcomed Ja'Niya into their family. Ja'Niya is a student at Quincy Sr. High School. Michaela and Andy are both passionate about serving their community and region.
Cody M. Hageman, Secretary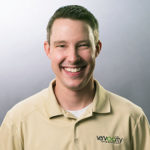 Cody Hageman is a 2000 graduate of Quincy Senior High School. He attended Quincy University and graduated in 2004 with a degree in Computer Science. He and his wife, Kayla, co-own Vervocity, a web development, marketing, and creative solutions company in Quincy. He and Kayla have two children, Ally & Arie, currently attending QPS. In his free time Cody enjoys working on home improvement projects, camping with family, spending time outdoors, working in the yard, and White Sox baseball. He enjoys using his skill set to support the QPS Foundation by helping spread its message, knowing that the children at Quincy Public Schools are being benefited.
Heather Cook, Treasurer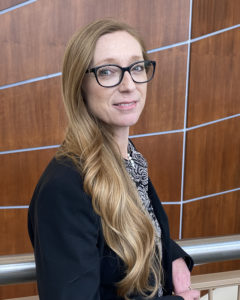 Heather is a 1994 graduate of Quincy High School. She received her Bachelor's of Science Degree in Accounting from Quincy University in 2000 and is a licensed Certified Public Accountant and a member of the American Institute of Certified Public Accountants. She worked as a staff accountant at Gray Hunter Stenn LLP for two years. Heather is currently the Finance Director for The Salvation Army Quincy Area Command in Quincy and has been with the organization for 20 years. Heather is also owner and operator of HLC Tax. Heather is an active member of Quincy Service League and has served as treasurer for the annual gift show. Heather has been married to her husband Jason for 17 years and they have a 16-year-old son (Camren). Camren attends Quincy Senior High School and plays baseball for the Blue Devils. Heather enjoys spending time with friends and family, restoring furniture, exercise, golf and watching her son play baseball. Heather has a passion for the Quincy community and values the importance of the QPS Foundation's role in providing much needed resources to both students and educators.
Dr. Todd A. Pettit, Ed.D, Superintendent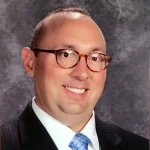 Dr. Todd Pettit is the Superintendent of Quincy Public Schools. Born and raised in Quincy, he is a 1989 graduate of Quincy Senior High School and holds a Bachelor of Science Degree in Music Education with a minor in piano performance from Quincy University, a master's degree in education from Indiana University, and a Doctor of Education - School Leadership from Saint Louis University.
Dr. Pettit began his teaching career with QPS before moving to Indianapolis, Ind., where he worked in non-profit arts education. Pettit held several educational and leadership roles there including leadership trainer for the Indiana State Teachers Association and the National Education Association. Upon completion of graduate school at Indiana University, Pettit relocated to southern Illinois to teach music before moving into an assistant principal and then principal position.
Dr. Pettit returned to Quincy in 2019 accepting the position of Director of Music Education with Quincy Public Schools. He led the K – 12 music programs through staffing and scheduling realignment, a focus on K – 12 music curriculum including adding three music elective courses at the high school, as well as leading the music department through obtaining several grants including the QPS Foundation Dream Big Grant, $25,000 awarded in 2020, all during a pandemic that saw other districts greatly reduce or eliminate music education in their schools.
Dr. Pettit assumed the position of Superintendent of Quincy Public Schools July 1, 2022 and is proud to be the first Quincy Senior High School alum to serve as superintendent.
Shelley Arns, School Board President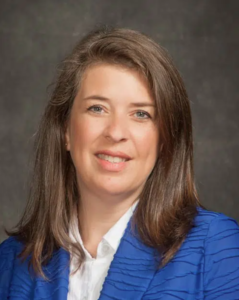 Shelley Arns is a 1988 graduate of Quincy Senior High School. She attended Illinois State University, earning her bachelor's degree in Elementary Education and a master's degree in Educational Administration. Shelley taught in the McLean County Unit District #5 schools for twelve years as a substitute, teaching assistant, teaching 3rd, 5th, and 6th grades, and teaching technology to students in PreK-6th grades in the Instructional Media Center.
She and her husband Jeremy (QHS Class of '89) moved back to Quincy in 2005 to raise their son, Greysen (QHS Class of '19) in their hometown. While in Quincy, Shelley taught 6th grade at Baldwin South for 8 years. She then transitioned to working with her family's business, W.C. Holzgrafe Construction Company in 2013. Since working in the property management arena, she has remained active with Quincy Public Schools serving as a mentor to students, on PTAs at both QJHS and QHS, and most recently on the school board. In 2018 she was appointed to the board to fill a vacancy and was voted to the board in 2019. In August 2022 Shelley became the president of the board.
Rachel Hansen
Rachel has been a Trustee for the Foundation since 2015, and previously served as President and Vice President. Rachel earned her J.D. in 1998, with honors, from St. Louis University School of Law, and her B.A., cum laude, from the University Of Louisville School Of Business in 1995. Rachel is the Director of Curriculum, Programs and Instructional Support at John Wood Community College in Illinois. She is also an instructor of Pre-Law/Criminal Justice and Business Law at John Wood Community College. She is passionate about education, and particularly public education. Rachel is the mother of a QPS student and a QPS graduate. She is active in the parent/teacher organization at QHS, serving as co-president.
Brandy Blickhan Ridder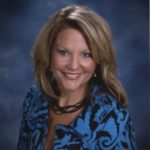 After 21 years in marketing and advertising, Brandy is President of Brand Advantage Marketing Agency located in Quincy. Brandy is on the Quincy Humane Society Board, Advocacy for Children Network and various committees at the Quincy Art Center. She recently married Mike Ridder of Adams Fiber and has 2 stepsons Adam and Austin and a dog Lucy. Brandy graduated from Quincy High in 1993 and University of Illinois at Urbana Champaign in 1997 with a degree in Communications.
Dr. George E. Crickard III
Dr. George Crickard is a proud 1984 graduate of the Quincy Public Schools having attended Madison School, QJH, QHS I and QHS II. He returned to Quincy in 1998 as an an Orthopedic Surgeon with Quincy Medical Group. His area of interest is arthritis and joint replacements.
"I have always been proud of my years in the QPS system. It laid the foundation for me to be successful in my undergraduate and medical school studies."
He and his wife, Maureen, have three children - all QHS grads. In the Summer of 2022, they celebrated three graduations. Jack graduated from QHS, he plans on attending John Wood's College for Life Program. Grace graduated from Auburn University's nursing program and is relocating to the Dallas area for critical care nursing. George IV, a 2019 Baylor grad, received his doctorate of occupational therapy degree from Western New England University. He will also be in the Dallas area.
"I enjoy traveling with the family, history (I am on the board of the Historical Society of Quincy and Adams County), Boston sports, and road cycling."
Heidi Holzgrafe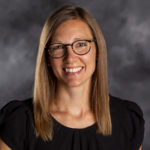 Heidi Holzgrafe is a 2000 graduate of Quincy Senior High School. She and her husband, Eric Loos, a 2001 QHS alum, returned to their beloved hometown in 2019. As a member of the Quincy Public Schools Foundation, Heidi hopes to grow community support of the organization. She believes investment in our students, educators and facilities is essential to maintaining quality of life of the entire community long term. Prior to moving back to Quincy, Heidi worked for a real estate investment firm based in Chicago overseeing operations for their national multi-family housing portfolio.
Heidi also sits on the Board of the Quincy Art Center.
Diane Glaub
Born and raised in Breese, Illinois, Diane attended Mater Dei High School and graduated in 1978. She later attended and graduated from Quincy College in 1982 and never left the community. Fortunately, she was able to find a job teaching Math at Quincy Junior High School right out of college. Diane retired from QPS in 2015 after enjoying 35 great years as a teacher and principal.
Today, Diane enjoys the life of a retiree. You can find her traveling, enjoying the outdoors, spending time with family and friends or participating in a competitive game of pickleball.
Dr. George C. Meyer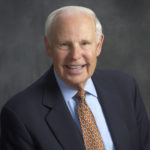 George Meyer is a former teacher, coach and administrator in the Quincy Public School district for 34 years and was superintendent during his last four years with QPS.
George was born and raised in East St. Louis, IL. He graduated from Quincy University in 1963, and he married Mary Nell Frier in the summer of 1963. They both began teaching at QJHS. He obtained his Doctorate from the University of Missouri in 1972. George and Mary Nell had three chiIdren who graduated from QHS. He worked in the QPS system and retired as Superintendent in 1997. George then taught and became Dean of the School of Education at Quincy University until he retired again in 2006. Since then George has been involved in bringing Covey's 7 Habits of Highly Effective People to the schools of Adams County."
Katie H. Schelp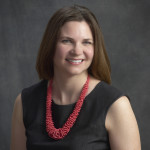 Katie Schelp and her husband Spencer are both graduates of Quincy Senior High School.  They have four children (Ben, Jane, Anne & Gus). Katie is the Director of Physician Recruitment & Retention for Quincy Medical Group.  After living away from Quincy for 16 years, the Schelps returned to the town they love in 2011.  Katie believes that a strong public school system is essential for Quincy to continue to be a place where people want to raise their families.
Ben Van Ness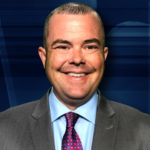 After graduating from Quincy High School in 2001, Ben attended the University of Kansas and graduated in 2006. From there, Ben and his wife moved to Philadelphia, PA where Ben started his television career as a Political Representative for Blair Television. Ben stuck with Blair Television for several years as that job moved them from Philadelphia, to New York City, to Chicago IL over the span of about 6 years. Ben then joined Quincy Media, Inc as an Account Executive for WSJV in South Bend, IN. After becoming Local Sales Manager while in South Bend after a few years, Ben became General Sales Manager at KXLT and relocated to Rochester, MN. That same job opportunity became available at WGEM in Quincy, IL where Ben was born and raised and moved back in 2017. In early 2021, Ben became the Vice President & General Manager of WGEM.
Ben and his wife Amanda have two daughters, Olivia and Emma. Ben is an avid sports fan and enjoys spending time with family & friends. Ben and his family are active at St. John's Episcopal Church and several other community organizations. With any free time, you can often find Ben on the golf course or outside chasing around the kids in the neighborhood.
Stephanie Barbagiovanni
Stephanie is an OB/GYN (not currently practicing), graduated from Cornell University in 1990, and UMDNJ-SOM in 1996. She and her husband John moved from NJ to Quincy in 2004 because it was both a job opportunity for John and a great place to raise a family (and escape the fast pace of the East Coast!).  Since that time she has been passionate about the Quincy
Public School System. She has two children, a QPS graduate and a QPS senior. She has served on the PTA at all levels, from elementary to high school (including past QHS PTA President), been a director on FPA and currently secretary, involved in the QPS Mentor Program, and participates in multiple volunteer organizations/activities. She loves to run and play tennis.
Mellissa Douglas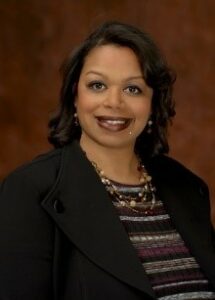 Mellissa is a 1993 QHS graduate.  She attended Fontbonne University in St. Louis, Missouri in 1997 with a Bachelor of Science In Business Administration with a concentration in Accounting..  After 14 years of working for Monsanto, living in St. Louis and 2 years in New Orleans, Mellissa returned home to Quincy in 2009.  She is the Customer Solutions Manager at Phibro Animal Health.
Mellissa is an active member of the Board of Directors for the United Way of Adams County, serving on several committees and volunteering. Mellissa is passionate about supporting community and honored to be a part of the QPS Foundation.  Supporting education and the future of our children is essential.
Mellissa has one son, Parker (future Blue Devil, class of 2029).  She enjoys watching his many sporting events, spending time with family, golfing and trying new recipes.
Dan McCleery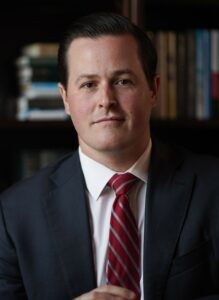 Dan graduated from QHS in 2008. He played on the golf team and his 2006-2007 golf team was inducted into the Quincy Blue Devil Hall of Fame. He earned his B.A. in History from the University of Illinois in 2012 and J.D. from Saint Louis University in 2015. Dan returned to Quincy to practice law in 2015 and founded McCleery Law in 2022. Dan believes the future and well-being of our community lies in the hands of those students enrolled at QPS. Dan believes our mission is to support our young people to provide them the highest educational experience possible, so they can achieve great things, help others, and carry our community forward.
He is married to Allie, and they have a daughter, Molly, QHS class of 2037. Dan previously served on the Arts Quincy board and is an active member of First Union Congregational Church.
Stephanie Erwin
Stephanie is a 1985 graduate of Quincy Public Schools. She received her Bachelor's degree in Accounting and Philosophy from William Woods University in 1989.  She is a certified public accountant and currently the Director of Fiscal Services at Blessing Health Hannibal. She previously served on the Foundation Board and the Quincy Public School Board from 2011-2015.  She also served as Chair of the QPS Board Finance Committee.
Stephanie has four sons (Adlai, Ashtyn, Aubrey, and Alden), 3 of which are graduates of Quincy Public Schools, and Alden will be a senior this year. She was heavily involved in her children's QPS school activities as a classroom volunteer, served on all school levels of PTAs, including treasurer of Ellington School, and taught JA at several grade levels. She has been involved in numerous community organizations including Quincy Society of Fine Arts, United Way, and Horizons Social Services.  She currently is a Quincy Symphony Orchestra Association board member where she serves on the Finance Committee.
Stephanie enjoys spending time with her family and traveling. She loves everything Oxford and Ole Miss where her son Aubrey will be a senior (Go Rebs).  She loves everything Westminster College where her oldest Adlai and 2nd oldest Ashtyn graduated. Shee love everything Colorado where her oldest son Adlai lives.  "I'm excited to return to the Foundation to help support QPS where I can. I have always been passionate about education, and do not take lightly the fact that everyday we are entrusted to give our QPS students and families the best education and opportunities that we can."
Michelle Moore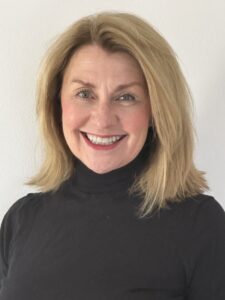 Michelle is a 1982 graduate of Quincy High School and a 1985 graduate of University of Missouri-Columbia with a double major in Early Childhood & Elementary Education. She formerly taught kindergarten, 1st grade, and Reading Recovery in the Peoria and Quincy Public Schools.
Michelle has always been very passionate about education, particularly Quincy Public Schools, and has been involved in a variety of roles as a parent, an alum, and a community member.  She and her husband, Todd, also a 1982 QHS alum, were Honorary Chairs for the 2022 Dream Big Campaign.  The support and enthusiasm of the community was overwhelming.  She feels strongly that the quality and strength of the public school system in a community is mandatory for continued growth and development of that community, as well as for the quality of life for its citizens.
Michelle and Todd are the parents of two children, Austin and his wife Miranda and Alexandra and her husband Tony.  They are the grandparents of four (amazing) grandchildren, Natalia and William Moore and Lucas and Sophia Lantz.
Carson W. Kirk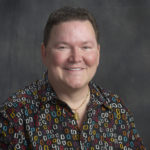 Carson Kirk, son of former Quincy teachers Carolyn and Houston Kirk, is President of the Kirk Family Foundation, which is mainly geared towards education.  To that end, Carson has really appreciated the opportunity to get involved with the QPSF as a trustee and as a staunch supporter of the Circles of Investment program.  Despite being a longtime Floridian, Carson enjoys his ties to the Quincy community, and is still a big Cardinal fan.
Interested in joining the Quincy Public Schools Foundation Board of Trustees?
Please complete the interest form at the link below! Please note that completing the interest form does not guarantee you will be invited to join the QPSF Board. Board members are selected based on a number of factors, included current board member terms, skill sets, and geographic locations.