QHS Alumna Strives to Open Local Children's Museum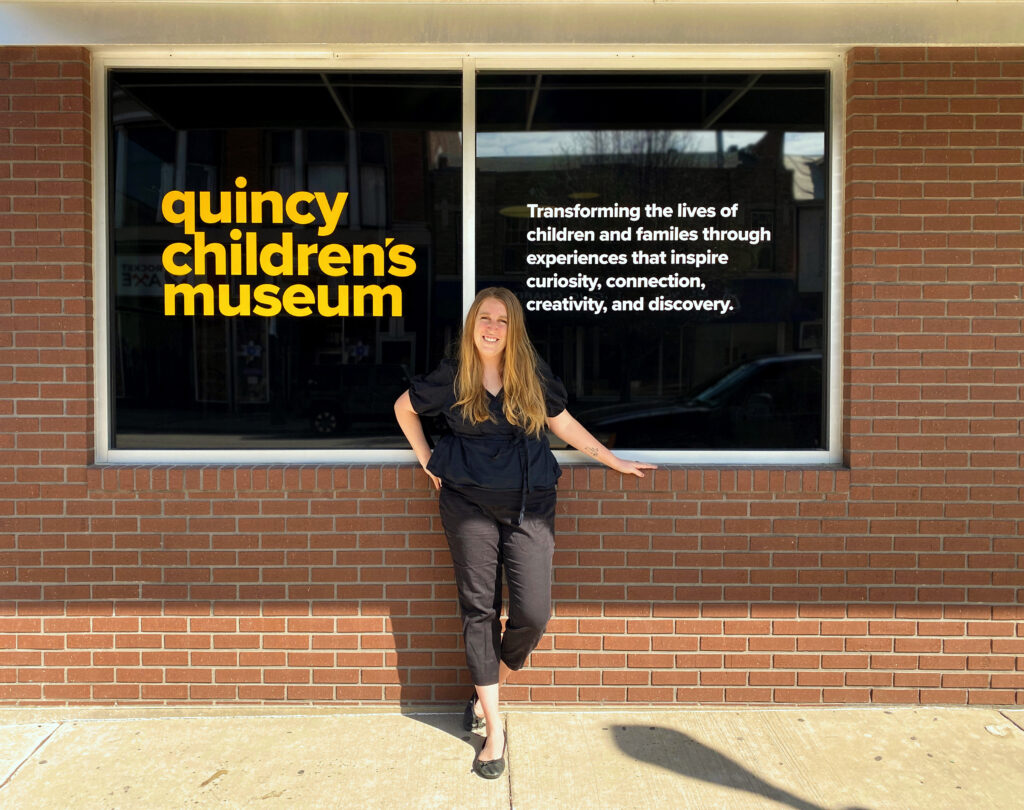 Everyday, Quincy gets a little closer to having a physical Children's Museum. Renovation on the Paper Box Company building began in January 2022, and with the right community support, the 24,000+ sq ft Museum could open its doors in 2026.
In the meantime, Quincy Children's Museum Executive Director Amy (Wentura) Peters '10 is doing everything she can to keep momentum going and provide engaging learning opportunities to the region's youth.
"We are not waiting for our walls to get out there and start getting these experiences to the kiddos," said Amy. "In 2021, we got to start doing mobile community events. The first summer, we did 10 events and served around 1,000 children. At that point, if someone was having an event that aligned, we just asked if we could be there and set up at the event. We were really welcomed with open arms.
"Then the next year, we did over 85 mobile events and served 20,000 kids. I think that just really shows the support and the impact, but also the need for this kind of thing in our community. Today we're operating out of a temporary studio location in Downtown Quincy and have already welcomed over 1,000 visitors since opening in late February."
The push for this space in Quincy began not with a corporation or even an established group, but rather from Peters herself. In 2019, almost on a whim, she made a survey to gauge community interest in a children's museum and posted it on social media.
"My husband and I had always thought that there should be something like this here. We love Quincy and love what we are able to do with our kids here, but it was one of those things where to take them to a museum experience, you had to drive for hours or take a train. By the time you get there, everybody's crabby and it's not as enjoyable," said Amy. "The idea of having something like this in our own backyard was always something that we had felt on our hearts. So we put it out there on social media. Within a week, 600 people responded that 'Yes, Quincy needs this'.
"From then, that is where the community piece came in. With this entire project, it's been a matter of different people stepping up and getting involved. Giving where they could and doing what they could to make it happen. We got the help and support that was necessary to become incorporated in 2019, and shortly thereafter, became a 501(c)(3)."
And then the pandemic hit. The momentum that had been building since the social media survey threatened to stall, but Peters remained committed to the idea and used the time to really sink her teeth into the project. She focused on strategy, business development, and relationship building. She looked at what other museums were doing in the field and paid attention to industry practices. She also took to social media and began sharing activities for families to do in their homes. Amy's commitment to the museum pushed the idea through the shelter in place orders and once restrictions lifted, the Museum was positioned to really pick up steam.
The project scored a major victory with the donation of the Quincy Paper Box Company building, a historic three-story brick building in the heart of downtown at Vermont & Third Streets. While the building itself needed a complete overhaul, this location has allowed the museum to stay true to its core ideas and values: bettering the community in a way that stays true to Quincy.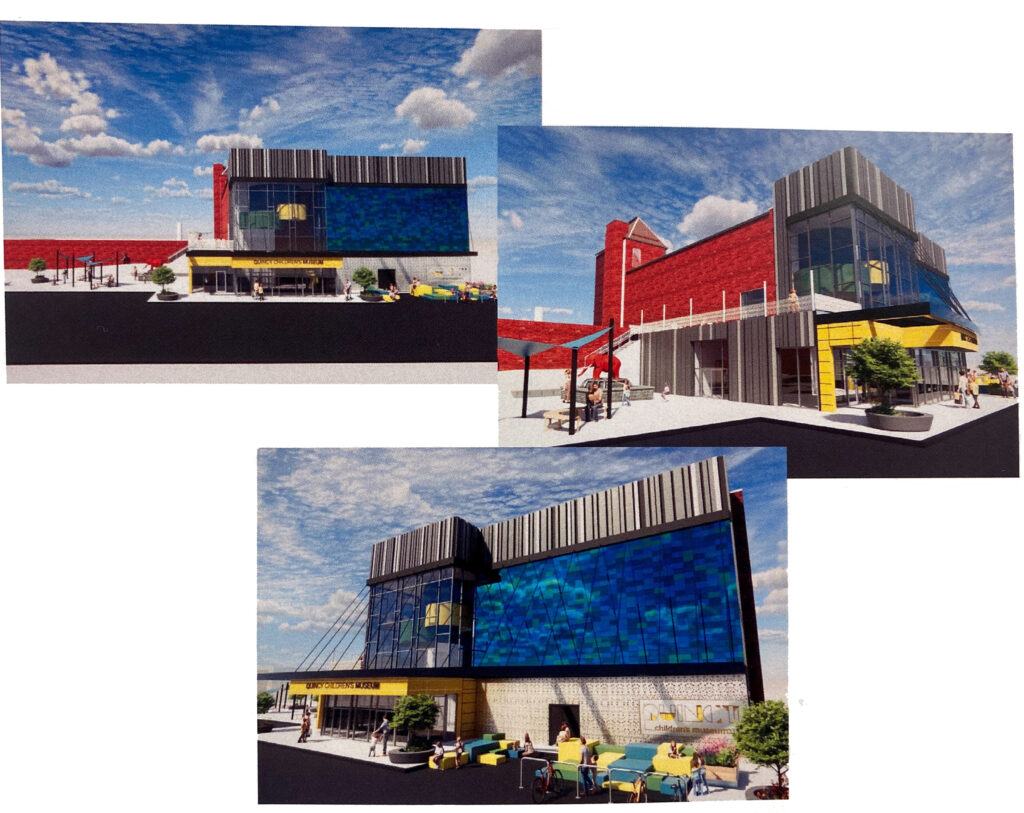 "Quincy is rich with history and tradition. We are investing in Quincy by restoring this Quincy landmark. It would have been easier and possibly quicker to just build something new and not go through the hoops and the hurdles of restoring a historic building," said Amy. "But we really saw the value in this space. We believe this renovation will enrich our community for everyone, not just the children. This is going to be a destination bringing economic benefits and tourism. Quincy Children's Museum is something that we can all be proud of. A gift to Quincy and really, the entire region."
Improving the community while keeping it true to itself is really at the heart of Amy's mission. Not only was Amy born and raised in Quincy, but so were her parents, grandparents, husband & husband's family. Her grandfather, Dick Wentura '58, has been keeping time in Blue Devil Gym at the basketball games for over 65 years. Amy and her husband, Jacob '04, are raising their five children here. And being in the position to give back to Quincy Public Schools is a full circle moment for Amy.
"It's incredible being able to travel around and make school visits, and it's been super well received. The teachers and kiddos are just ecstatic. Especially as they get to see us and know us," said Amy.
Keeping the museum accessible to our community has been an intentional decision from the beginning. "We have been fortunate to be able to offer community programming, studio experiences, and school visits at no charge, made possible by generous donations, grants, and partnerships. Our mission is to transform the lives of children and families through experiences that inspire curiosity, connection, creativity, and discovery. By making sure children get to have these types of experiences without having to travel 100 miles gives families the opportunity and the place to be able to do just that. Children's museums by nature are a great supplement and support for schools, and Quincy Children's Museum is no different. Be it a school visit, field trip, or family night, whatever we can do to support our educators and students, we will."
Really, to Amy, it all boils down to one little phrase which she is dedicated to making true.
"Quincy is for its kids."