Dream Big Annual Campaign Raises important dollars for quincy public schools
Each year, the Quincy Public Schools Foundation holds an Annual Campaign, with the mission of raising funds to support the Quincy Public Schools in the areas of curriculum, technology, fine arts, and athletics. Funds raised during the annual campaign also go toward the work done within the Quincy Public Schools Foundation, helping to expand the Foundation's capacity and grow its impact.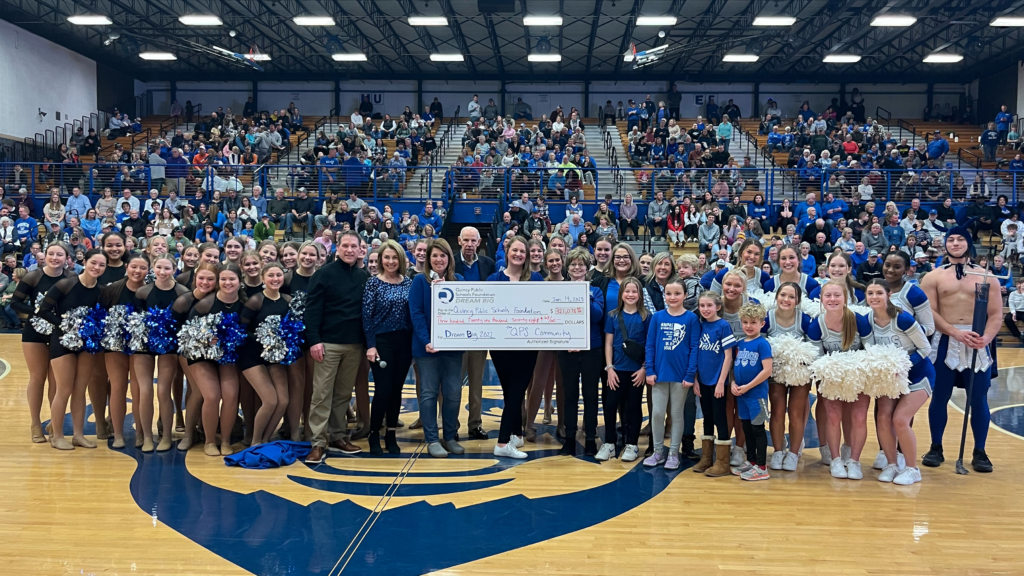 2023 Goal: $250,000
Campaign Chairs: Tim & Wendy Koontz
Dates: Aug. 1, 2023 through Jan. 30, 2024
Areas of Support: QPSF Operations, Curriculum, Technology, Fine Arts, Athletics, or Area of Greatest Need
Types of Support: Both endowed and non-endowed gifts are counted in the campaign.
Non-endowed donations will be used to support one of QPSF's Key Pillars: Curriculum, Technology, Fine Arts, Athletics, and QPSF Endowment & Operations. If no designation is made when the gift is given, the funds will be applied to the area of greatest need.
A new endowed gift, called a Circle of Investment, can be created with a minimum donation of $10,000.  Gifts can also be directed to an existing endowment. The money that is invested into the endowment is never spent; only the earnings on those funds are pulled and used to fund projects within Quincy Public Schools.
How Funding Gets Distributed: QPSF distributes money in several ways. The most well known way is through the Dream Big Teacher Grants Program. There are two grant cycles each year, and any QPS employee is eligible to apply for a grant.
QPSF also works with the district to identify areas of need and funds larger projects on a case by case basis.
Why Support?
A Healthy School System is a Healthy Community. 
A thriving educational experience is the lifeblood of a healthy community. While tax funding provides for the essentials, the Quincy Public Schools Foundation is here to make sure that every student has access to the tools they need to grow into successful community members. This includes making sure teachers have the resources they need to be their best and schools have the facilities to provide engaging learning opportunities.
Investing in our schools is investing in our community's future.
Balancing Immediate Needs Vs. Long-Term Success
The money raised during the campaign helps to fund immediate projects in the district through the distribution of non-endowed gifts, while also safeguarding & enhancing the future of the Quincy Public Schools Foundation though the investment of endowed gifts.
Both types of support are so important to the ensuring the Quincy Public Schools experience is fulfilling and exceeding the needs of our students.
Giving Back to an Institution that Gave So Much
QHS Alumni know that when they were student, they were supported by previous generations of Blue Devils who cared about their success. As QHS alumni graduate, theycan pay it forward to ensure current and future students have the same opportunities they did. These experiences are not guaranteed, but made possible by those who understand the importance of giving back.
Being a Blue Devil is something to be proud of, and it is up to all Blue Devils to continue that time honored tradition of quality. Through the QPS Foundation's Annual Campaign, the entire community can invest in student experiences that lead to the distinctive excellence for which QPS is known.
The QPS Foundation has seen strengthening community support over the years, as it grows its impact and increases the support it sends to the district.
2022 Campaign: $200,000 Goal.  $321,068 Raised.

Campaign Chairs: Todd & Michelle Moore
2021 Campaign: $200,000 Goal. $310,551 Raised.
2020 Campaign: $200,000 Goal. $170,500 Raised.
2019 Campaign: $200,000 Goal. $300,000 Raised. 

Campaign Chairs:  John & Dale Stevenson
2018 Campaign: $150,000 Goal. $212,750 Raised. 

Campaign Chairs: Ned & Reaugh Broemmel